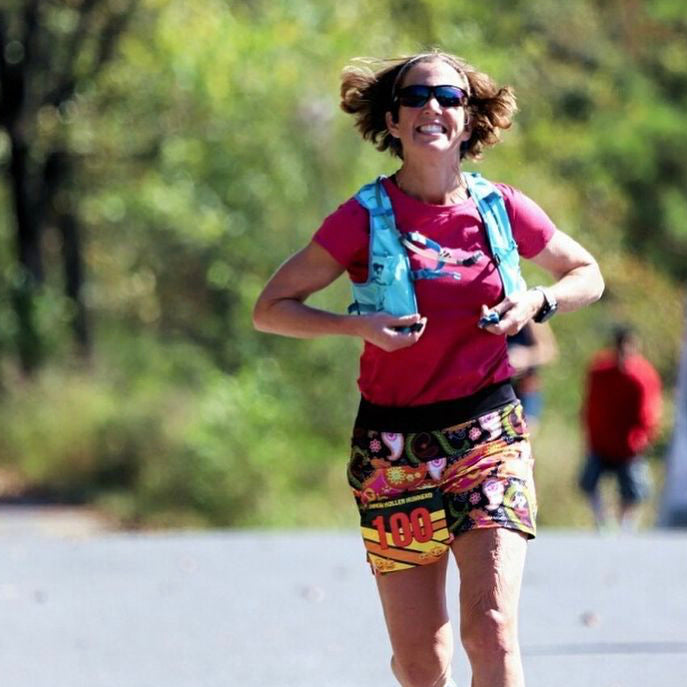 Traci Falbo is a champion Ultra Runner. She currently holds the American Record and World Indoor Track Record in the 48 Hour race and previously held the American FKT (Fastest Known Time) for 100 mile trail racing. We caught up with her to learn a bit more about her training, recovery, and how she stays motivated.
How many years have you been running?
I ran in high school and at a very small college, but I wasn't very good. I stopped running for 10 years while I was in grad school, beginning a career, and pregnant with my two children. In 2003, I was depressed and 80 pounds overweight. I decided to start running again to just to lose weight. It took me 15 months to lose the weight. Once I lost the weight, I set a bucket list goal to run a marathon. I never guessed it would turn into what it has.

What is your favorite distance to race?
100 milers are my favorite.
What tricks do you have for maximizing your recovery?
I love Epsom-It Muscle Recovery Lotion because it significantly reduces my muscle soreness and helps me recover faster. I use it after every long run or race. I don't travel anywhere without it. I also am very on top of my nutrition. I take sufficient calories on a long run and drink about 200 calories within 30 minutes after I run with a 3:1 ratio carbs:protein. Then, I follow it up with a meal within two hours. Fueling properly and replenishing properly are important for recovery.

What does a typical week of training look like for you?
I typically run 5 to 6 days per week, averaging 55 to 65 miles. If I am training for 100 miler or longer distance, I will train up to 80 to 85 miles per week. I will decreased my mileage 40 to 45 miles per week when not training for a specific event.

What do you feel is your biggest obstacle you've had to overcome?
My biggest obstacle has been issues with my health, specifically my left knee and issues with anemia/fatigue. In September 2018, I injured my knee and could no longer run. It was a long road to recovery with two orthopedists telling me I needed to find a new sport. I would say the biggest obstacle I have had to overcome would be physical or health issues that are out of my control and limit my ability to run and train like I would like. Running means a lot to me. It is social time with friends, it enables me to be able to maintain a healthy weight, it is a stress reliever, and my favorite hobby. After having a lot of time where I was unable to run due to health issues, I have grown to be more appreciative of my body and what it can do. I won't take any run for granted ever again and I'm now being very picky as to what I race. I want to run races that are beautiful and fun. You never know how much time you have left, so make the most of it!

What is your typical pre-race/workout meal?
Before a race I eat a bagel with peanut butter and honey.

How do you stay motivated when you are having an off day?
Running with friends makes all the difference! If I can't coordinate my schedule with friends, I listen to music.