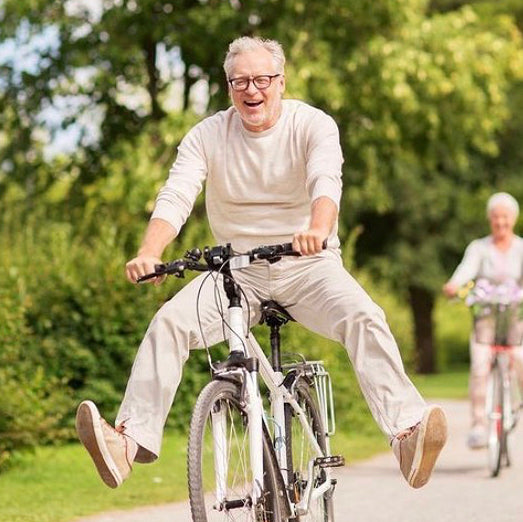 Summer's blue skies, warm weather, and sunshine have arrived! It is the perfect season to get out and get active. Here are our top 10 easy ways to get moving and stay active this summer:
1. Swimming
Your local beach, lake, or pool offers the perfect place to cool off and get some low impact exercise.
2. Boating
If you don't want to get in the water, consider getting on it. Try kayaking, paddle boarding, fishing, or white water rafting down a river.
3. Dog Walking
Your dogs love the warm weather as much as you do, so get moving together!  

4. Get Rolling
Take your bike, roller blades, or skate board for a spin around the neighborhood!

5. Running
Keep it old school and move on your own two feet. If you've dreamed of accomplishing a 5K or marathon, now's the time to find a training plan and work towards that goal!
6. Joining a League
See if your city offers organized sports, like softball, soccer, or flag football leagues. Have some competitive fun and unleash your inner athlete!

7. Capturing the Scenery
Turn your outdoor excursion into an art project.  Try your hand at taking pictures, drawing, or painting the scenery around you!
8. Gardening
If your backyard is starting to look like a jungle, transforming it with some fresh plants and flowers could be a fun project and a great way to get active!
9. Produce Picking
Instead of hitting the grocery store for your fruit and vegetable needs, try a local farmers market for the freshest produce. Or, better yet, go fruit picking at a local orchard.
10. Flying Toys
Venture out to an open meadow and fly an electronic drone, remote-controlled helicopter, or kite!
The summer season offers many easy ways to get out and stay active! Don't forget to fight off sore muscles and boost your recovery with Epsom-It Muscle Recovery and Nerve Relief Lotions and Roller Balls! Faster recovery means more time taking advantage of one of the most beautiful times of the year! How are you planning to stay active this summer?