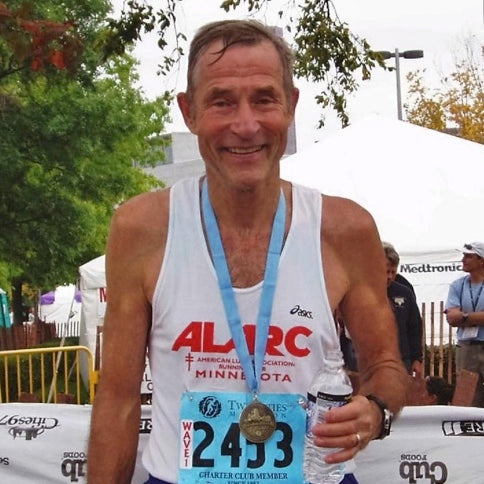 Edward "Fast Eddie" Rousseau has set 18 US Ultra Marathon Records ranging from 100 miles to 6-day events. Now, at 81, Rousseau has no plans of slowing down anytime soon. We caught up with him to gain some key insight into how he has accomplished these amazing feats and keeps his body in peak performance at 81 years old!
How many years have you been running?
Just over 40. I started as an out of shape alcoholic. I had to do something for my addictive personality. Running has saved me and helped me to encourage others to do the same.
What records have you set?
At age 74, I set the 6-day Race World Record for the 70-74 age group with 336 miles. At age 80, I set a new all-time USATF 100 Mile 80-84 Age Division Record and moved to Number 2 in the World all time with a time of 30:07.
What is your favorite distance to race?
24 Hours or 100 miles. But I love all distances.
What does a typical week of training look like for you? 
My weeks now are much different than in my 40s, 50s, 60, and even 70s.
I make sure that I have a purpose for my miles. I typically run 25 to 30 miles a week plus my long run that, depending on my training schedule, can be from 9 to 40 miles. I often resort to a 20 second walk and 40 second run in my long runs and races from a 10K up.
What tricks do you have for maximizing your recovery?
Epsom-It Muscle Recovery Lotion gives me real muscle pain relief. I apply it to any tender spots a half hour before a run or race and the tenderness is gone before the run starts.  During my ultras, I reapply Epsom-It to my legs and back muscles every 5 hours for relief. When I use it after a race or long or hard training run, I am pain free the next morning.
I also am sure to do proper stretching and rolling before and after a run or race.
I replenish my electrolytes, minerals, vitamins, and protein right after a run or race. I have found that the best drink to replenish all of them is good old fashioned chocolate milk.
How do you keep your body moving so well at 81 years old?
I eat well. The food pyramid we learned in 3rd grade. I am busy and walk or run with stretches daily. I work hard physically using my arms and upper body doing spring chores like raking. When I am sore, I use my Epsom-It Muscle Recovery lotion as treatment.
What is your typical pre-race/workout meal?
I try to load up on easy digesting stuff. The day before a big event is a lot of peanut butter jelly sandwiches and eggs for great protein. Evening meal for tradition is pasta, but before 5 PM preferably and well chewed so it gets through me well before race time.
How do you stay motivated when you are having an off day?
Off day?? Off minute. Off hour. Keep going unless it is an injury that needs to recover. Low energy gets an extra Hershey bar and another cup of coffee. I condition my mind ahead of a race not to let any negative thinking come in. I won't let myself bail out.